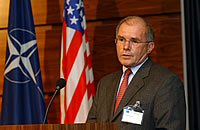 Chairman of the NATO-Military Committee (1996-1999)
Elected as the Chairman of the North Atlantic Military Committee by the Chiefs of Defence of NATO at their December 1994 meeting, General Naumann assumed the appointment on 14 February 1996.
General Klaus Naumann was born in Munich, 25 May 1939 and joined the Bundeswehr after his secondary school graduation in 1958. Commissioned a second lieutenant in the Artillery his further military education includes attendance in 13th Army General Staff Officer Training Course at the Federal Armed Forces Command and Staff College in Hamburg, and the 1983 course at the Royal College of Defence Studies, London.
During his years as a junior officer, he served in different positions such as a Fire-Control Officer, Personnel Officer and S-3 of an Armd Art Demo Bn. He has held a variety of command and operational positions. He was a Battery Commander in Armd Art Bn 135 in Wetzlar, a Brigade Operations Officer, Battalion Commander Armd Art Bn 55 in Homberg and Brigade Commander of Mech Inf Bde 30 in Ellwangen.
In Bonn, he had two Assistant Branch Chiefs tours, and an assignment as Executive Officer to the Vice Chief of Staff, Federal Armed Forces at MOD. He also served on the staff of the German Military Representative in the NATO Military Committee as branch chief Policy, Nuclear Strategy and Arms Control Section.
Promoted to Brigadier General on 1 April 1986, he became Deputy Chief of Staff (Planning), followed by a two star assignment as Deputy Chief of Staff (Politico-military affairs and operations) both at Armed Forces Staff, MOD Bonn.
Thereafter, General Naumann was Commanding General of I Corps in Münster from where he was moved to the position of Chief of Staff, Federal Armed Forces, on 1 October 1991. He was promoted to Four Star General on that very day and held that position until 06 February 1996.
Among his many publications, he is the author of the book "Die Bundeswehr in einer Welt im Umbruch (The Bundeswehr in a world of transition)", 1994 and of "Frieden, der noch nicht erfüllte Auftrag (Peace- a mission not yet accomplished)", 2002.
He received numerous international awards and decorations and in 2004 a honorary doctorate of the Miklos Zrinyi University, Budapest.
After retirement in May 1999 he was invited to join numerous non-profit advisory boards such as the Council of the IISS, London, the ICRC Advisory Board, the Board of the GCSP, Geneva, he served as Vice-President of the ATA and the RUSI, as President of the Clausewitz Gesellschaft and as Co-President of the British-German Officers Association.
Asked by the UN SecGen Kofi Annan he served in 2000 as a member of the Brahimi Commission which looked into reform options for UN Peacekeeping operations and following the invitation of the Canadian Government he became a member of the International Commission on Intervention and State Sovereignty which published its report "The Responsibility to Protect" in late fall 2001.
In 2004 he was elected Chairman of the supervisory board of Odenwald- Werke Rittersbach (OWR) and he was chosen to be a member of the board of THALES, Paris.
In fall 2006 he was elected to serve as a member of the Senate of the German National Foundation (Deutsche Nationalstiftung).
In 2006 he assumed the chairmanship of the International Advisory Board of ICXT, an American high-tech company focused on homeland security.